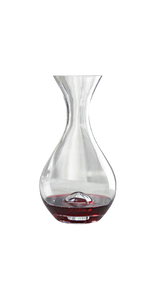 Decanter U Cabernet/Merlot
The Wine Enthusiast Decanter for "U."

With a punt at the base to aid aeration, this visually appealing glass decanter will enhance your wine experience. Room underneath allows you to hold decanter at bottom – while holding at the neck for easier pouring. 
Size: 10-3/4"H, 46 oz.
Made from lead free glass. 
Dishwasher safe.