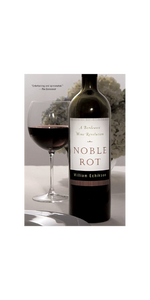 Noble Rot: A Bordeaux Wine Revolution (Paperback)
For wine lovers the world over, Bordeaux is the center of the universe. But in the past two decades, revolutionaries have stormed its traditional bastions, making their mark and their fortunes modernizing the production and marketing of wine.
Noble Rot introduces us to the figures who epitomize the changes sweeping Bordeaux: the noble family behind Château d'Yquem; a stonemason turned winemaker whose wine, made in a garage, sells for $100 a bottle; the Maryland-based critic Robert Parker, whose opinion routinely makes or breaks a wine; the New World operations that have used branding to undercut Bordeaux's supremacy and delves into the mysteries of the legendary classification of 1855.
23 illustrations, map.
"Echikson's understanding and explanation of how the business works...is fascinating and easy to swallow." Michael Philips, Wall Street Journal
---
We Also Recommend
Bordeaux Legends: 1855 First Growth Wines
Jane Anson
Regular price

₱4,495

₱4,495
The Billionaire's Vinegar (Paperback)
Benjamin Wallace