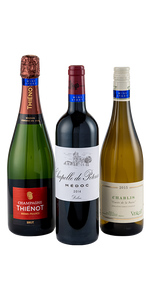 French Discovery
France's wines are among the world's most diverse.  Explore France's best wine regions with this set featuring the classic styles of Bordeaux, Burgundy and Champagne. 
Chapelle de Potensac bears the distinctive character of the Medoc, enhanced further by a great vintage for these Cabernet Sauvignon-based wines.
Chablis is a rare gem that will introduce your palate to Burgundy's unique style of crisp and flinty Chardonnay. 
Top off the trio with Champagne, the world's best sparkling wine. Thienot's finesse and balance is an expressive representation of the typical non-vintage Champagne.
This set includes three bottles:
---
We Also Recommend