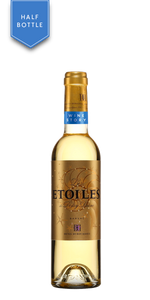 2016 Les Etoiles De Doisy Daene 37.5CL
TASTING NOTES:

Wine Rating: N/A
Drink by: N/A
"Les Etoiles de Doisy-Daëne" sweet wine is harvested vinified and aged with the same care as the one of Château Doisy-Daëne. The harvest is performed by experienced grape pickers in three to six successive selective pickings in order to collect at the ideal ripening stage, the grapes concentrated by the "noble rot".

During three-quarters of a century, oenological progress and sensible traditions have combined to create the characteristics grapes. With this know-how, an astonishingly simplified process has been elaborated. Extracted through slow pressings, the rich and pure must ferment in oak barrels renewed every by fourth every year. Aging then starts with 9 months in oak barrels, in the coolness of the cellars and is regulated by the weekly toping of the barrels and regular rackings. This is followed by 9 months in stainless steel tank before bottling.

"Les Etoiles de Doisy-Daëne" wine, although less rich than the ones of Doisy-Daëne, possess nevertheless all the characteristics of a great Barsac; Pierre and Denis Dubourdieu's very pure wine-making style is strongly present.
---
We Also Recommend