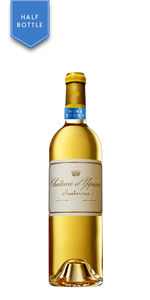 2001 Yquem 37.5CL
TASTING NOTES:


Wine Rating: RP 100 points
Drink by: 2030 - 2101

I have had the very good fortune to taste the 2001 Yquem perhaps a dozen times since its release and have never been less than absolutely floored by its combination of poise, purity, precision and layer upon intricate, jaw-dropping layer of flavor nuances. It is among a very small clutch of incredible wines that crash through the 100-point ceiling and rocket beyond the stratosphere! A testament to that magic that can be created when an uncommonly great vintage for Sauternes brings out the best of an extraordinary vineyard and is skillfully, sensitively crafted, the 2001 is a true wine rarity that must be tried to be believed.

Pale to medium lemon-gold, the nose is simply WOW—an absolute show-stopper, delivering vibrant, youthful lime cordial, pink grapefruit and lemon meringue pie scents followed up by suggestions of chamomile tea, saffron, cassis and nutmeg plus wafts of marzipan, crushed rocks and beeswax. The palate is beyond-belief intense, offering a myriad of decadent citrus fruit preserves and earthy/mineral-inspired nuances, instilling incredible depth, all punctuated by profound freshness and finishing epically long and exquisitely delicious. The alcohol this vintage is 13.6%, while the residual sugar is a whopping 150 grams per liter, beautifully balanced by a total acidity of 4.5 grams per liter of H2SO4. Obviously, the longer readers are willing to cellar this, the more they will get of that ethereal tertiary complexity/experience. This said, for those who love great Sauternes in its youthful/primary flushes, even at this very early stage in its evolution, the multifaceted 2001 Yquem will not disappoint.
400 years of passion, the history of Château d'Yquem is like a novel, an epic saga full of events and colourful personalities spanning more than four centuries. Romain-Bertrand de Lur-Saluces, Françoise-Joséphine's grandson, took his role as manager of Yquem very much to heart, rather than simply taking possession of the family estate, which had become mythical by this time.

In 1855, in posthumous recognition of the tremendous accomplishments of "the lady of Yquem", the estate was designated the one and only premier cru supérieur in the famous classification made at the request of Emperor Napoléon III.
---
We Also Recommend