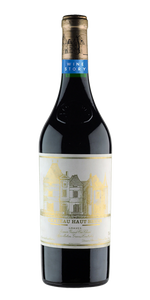 1990 Haut Brion 75CL
Other available vintages:
1982
1985
1986
1988
2004
2010
TASTING NOTES:

Wine Rating: RP 90 points
Drink by: 2009 - 2024
 
Brilliant complexity and nobility of the aromatics, scorched earth, black currants, plums, charcoal, cedar, and spices, the 1990 offers an aromatic explosion that is unparalleled. It is always fascinating to taste this wine next to the 1989, which is a monumental effort, but much more backward and denser, without the aromatic complexity of the 1990.
The 1990 put on weight after bottling, and is currently rich, full-bodied, opulent, even flamboyant by Haut Brion's standards. It is an incredible expression of a noble terroir in a top vintage. While it has been fully mature for a number of years, it does not reveal any bricking at the edge, and I suspect it will stay at this level for another 10-15 years ... but why wait? It is irresistible now.
"The history of the Haut-Brion lands goes back to the first century AD, as evidenced by a Roman coin featuring a portrait of Emperor Claudius, recently found in one of the gravel slopes of the Château Haut-Brion vineyard.

A few centuries later, the Haut-Brion terroir was given its name and was recognised as a "Cru" wine in 1521, according to the Gironde Departmental Archives. A few years passed before Château Haut-Brion became the "Grand Cru" wine we know now, thanks to the work of Jean de Pontac, who defined the boundaries of the current vineyard and built the Château we can admire today."
---
We Also Recommend