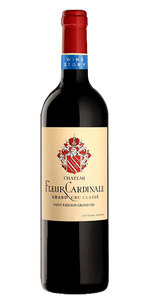 2011 Fleur Cardinale 75CL
Also available in case. Please
contact us
for more details.
TASTING NOTES:

 

Wine Rating: RP 93 points
Drink by: 2014 - 2026

 

This gorgeous 2011 continues the succession of impressive wines made by this estate since it was acquired by the Decoster family.
Beautiful black raspberry, blueberry and black currant fruit notes intermixed with a touch of spring flowers emerge from a wine with excellent balance, nicely integrated acidity, tannin, alcohol and wood, and a healthy saturated ruby/purple color.
This full-bodied, long, captivating La Fleur Cardinale is already drinking well, and should continue to do so for 10-12 years. It is a sleeper of the vintage.
"A land registry document dating back to 1819 reveals the existence of vineyard plots and buildings in the place called "Thibeaud", where the current winery is located. The first evidence of an estate producing its own wine here dates back to the 1920s-1930s, following the marriage of Pierre Sarthou-Moutengou and Jeanne Marie Grue, a descendent of two families of vineyard owners. The Château was called "Clos Bel-Air" back in those days.

The estate owes its current name, Château Fleur Cardinale, to Jean-Louis Obissier, son of the mayor of Villerouge-Termenes who purchased Clos Bel-Air in 1975. It is said that the Obissier family owned racehorses at the time, by the names of Fleur and Cardinale. After the death of his racehorses, Mr. Obissier changed the name of the estate to Château Fleur Cardinale."
---
We Also Recommend