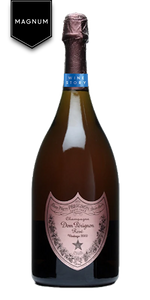 2000 Dom Perignon Rose 150CL
TASTING NOTES:

Wine Rating: RP 96 points
Drink by: 2010 - 2025

A dark, intense color leads to a Chambolle-like nose followed by endless red berries, flowers and spices, all backed up with plenty of muscle, richness and density.
The wine continues to blossom on the palate, with utterly beguiling detail.
"Dom Perignon Rose is a tribute to Pinot Noir. To work with Pinot Noir continually requires excellence and humility. In that regard, Dom Perignon Rose is a paradox to the point of contradiction as it is the perfect balance of Chardonnay and Pinot Noir.

Although it took over ten years to reach the light of day, the color of Dom Perignon Rose dares to express all the tension between youth and maturity, between exhibition and restraint.

Dom Perignon Rose keeps the Pinot Noir promise by making it sing out loud, on a clear, vibrant and fragile note."
---
We Also Recommend