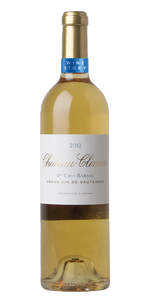 2012 Climens 75CL
TASTING NOTES:

Wine Rating: RP 91 points
Drink by: 2018 - 2036

Pale lemon-gold colored, the 2012 Climens has a slightly evolved nose sporting honeyed nut and toast notes with a core of lemon pie, fresh hay and allspice.
Big, rich and powerful in the mouth, with maturing citrus and stone fruit notions, it has a provocatively spicy finish.
"The name Climens means 'unfertile or poor land' in a local dialect! That was not taking into account the vine, this prodigious plant which is capable of transforming apparently undesirable soils into terroirs blessed by the gods. Their red soils, a thin layer of clayey sand rich in iron, cover a fossil-rich limestone platform which favours natural drainage.

From a biodynamic point of view, great terroir is born of balance among the four elements: Earth, Water, Air and Fire. At Climens one's eye is drawn to the red earth that originates in Fire and is the guarantor of richness. The element Water, found in the clay, balances this natural opulence perfectly by endowing the wine with its fluidity and freshness. The climate is different every year and whether it is the rain or the heat, Water or Fire in varying proportions, it makes each vintage unique."
---
We Also Recommend