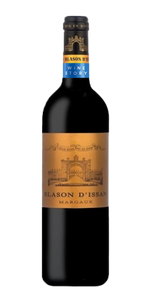 2010 Blason D'Issan 75CL
Also available in case. Please
contact us
for more details.
TASTING NOTES:Wine Rating: WS 87-90 points
Drink by: N/AA floral, perfumy style, with a range of red fruit—currant, cherry and raspberry—laced with pretty spice notes on the finish.
"The history of Château d'Issan consists primarily of a long list of property transmissions and legacies: in the 12th century, the property was a fiefdom with the name at that time of La Mothe-Cantenac, before becoming Theobon Manor, when a female heir married a lord with the same name. Over a period of nearly three centuries, the estate was passed down along a line involving a number of families with names such as Noailhan, Meyrac, Segur, Salignac, de la Vergne, Escodeca de Boisse, etc. From 1575 onwards, the property was owned by five generations of the Essenault family, who ended up renaming it, contracting their name to "Issan" and thus Château d'Issan was born."
---
We Also Recommend