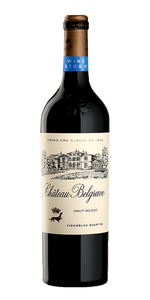 2016 Belgrave 75CL
Also available in case. Please
contact us
for more details.
TASTING NOTES:

 

Wine Rating: RP 90-92 points
Drink by: 2021 - 2042

 

Quite Margaux-like in style. The palate is medium-bodied with a supple opening: blackberry, mint, and cedar. There is a fine tension and a very impressive structure in the finish, plus a long saline aftertaste. A very strong follow-up to the 2015.
"Originally a highly reputed hunting pavilion during the reign of Louis XV, the expansion of the vineyards was particularly influenced by the Coutanceau family, whose name was first adopted for the estate's wines during the classification of Bordeaux wines carried out by Guillaume Lawton in 1815.

The "Bellegrave" designation first appeared in 1845, when Bruno Deves, a negociant in Bordeaux, remodeled the estate, favouring vine growing on the finest gravel terroirs. He built residences, tank rooms and wineries, and constructed the existing residence on the site of the original hunting pavilion. The wine was classified as a 5th growth in 1855, still bearing the name of Coutanceau, whilst the "Belgrave" name was only to be attributed at the beginning of the 20th century by Marcel Alibert, founder of the Syndicate of Crus Classes, and owner of the estate for almost 30 years. The link between the wine and hunting explains the ferret that features on the packaging."
---
We Also Recommend