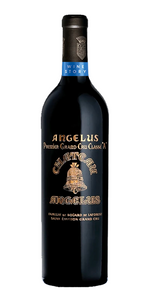 2012 Angelus 75CL
TASTING NOTES:

Wine Rating: RP 94 points
Drink by: 2022 - 2050



Tasted blind as a vintage comparison at the Valandraud vertical, the 2012 Angelus has a forward and generous bouquet of mulberry, boysenberry, orange rind and slithers of tangerine. It is undoubtedly detailed and energetic, a subtle marine scent surfacing with continued aeration. 
The palate is medium-bodied with rounded and supple tannin, slightly honeyed in texture yet with a keen line of acidity running through it. Impressive body and mass, yet primal, surly and broody. Perhaps only now is it starting to flex its muscles. This is a well crafted and opulent Saint Emilion with a long future ahead and it may warrant a higher score in the future. Those who cellar this for over a decade will see this in full flight.
"At the end of the 18th century in 1782, Jean de Bouard de Laforest, a King's bodyguard, settled in Saint-Emilion. His daughter, Catherine Sophie de Bouard de Laforest, married Charles Souffrain de Lavergne in 1795 and set up home on the Mazerat estate. Maurice de Bouard de Laforest inherited the estate during the 20th century and extended it, adding in particular a 3-hectare enclosure named Angelus in 1920.

His sons Jacques and Christian de Bouard de Laforest continued their father's work and that of previous generations. They extended it further until 1985 it exceeded 20 hectares. At this time, Hubert de Bouard de Laforest, Jacques' son, took over the management of the estate and was joined in 1987 by his cousin Jean-Bernard Grenie, Christian's son-in-law and later by his daughter, Stephanie de Bouard-Rivoal in 2012 and by his nephew Thierry Grenie de Bouard in 2016."
---
We Also Recommend