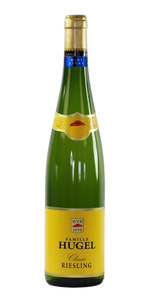 2017 Hugel Riesling Classic 75CL
TASTING NOTES:

Wine Rating: N/A
Drink by: N/A
"Young, pale green colour, with dominant green nuances, slightly yellow like lime tree leaves in the spring, with a few silvery hints, nicely bright and lively, with delicate tears that run finely down the glass.
The bouquet is fresh and lively, crisp and clean, pleasantly aromatic and fruity, green apple, lemongrass, ginger, white peach, fresh moss and blackcurrant, with an agreeable touch of muscatel. This is an authentic, expressive young Riesling.
The wine is dry and fresh on the palate, vivacious, nicely taut and elegantly structured, giving depth and persistence and a finish that positively encourages another sip.
Despite its youth, this wine's principal merit is its sincerity. It is clearly defined and ready to enjoy. Yet 2 or 3 more years in bottle would allow its elegant character and minerality to express itself, as only a Riesling can.
Enjoy it now for its energy and typicity, or keep it for 3 to 5 years to discover its full bouquet and complexity.
Serve it at 8°C. It will make an excellent aperitif. Or drink it with turbot, sea perch, monkfish, lobster, crayfish, seafood, pike-perch, pike, salmon, shellfish, scallops, and carpaccio of raw or marinated fish."
"The wine is already in the grape". As soon as they arrive at the "Hugel" premises in the heart of Riquewihr, the grapes are classified according to precise and strict criteria of quality.

Despite its modest size, the Hugel company enjoys a worldwide reputation. Present in practically every great restaurant in France, almost 80% of "Hugel" wines are exported, to more than 100 countries. The Hugel family was elected by its peers to membership of the "PRIMUM FAMILIAE VINI", an association of 12 family wine companies in the major wine-producing regions of the world. It is also a member of the Henokiens, an international association of family businesses that are all more than two hundred years old.


---
We Also Recommend