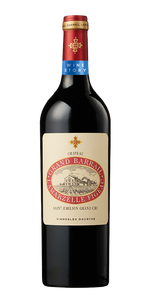 2012 Barrail-Lamarzelle 75CL
Shop other vintages:
2015
2016
TASTING NOTES:

 
Wine Rating: RP 87 points
Drink by: 2015 - 2025

Owned by the Dourthe family, this vineyard, which has a very attractive hotel and restaurant situated in the middle, has produced a very good 2012. While I'm not usually impressed with the wines from this hotel/restaurant quasi-vineyard, the 2012 is well-made, not by any means a star of the vintage, but attractive, round and juicy, with lots of earthy berry fruit, light oak and a moderately long finish. Drink it over the next 8-10 years.
The cross featuring on the wine label is a reference to Saint-Emilion's religious background. This medieval town founded by a monk in the 7th century is famous for its monuments constructed over the centuries by various religious orders. The cross also symbolizes the property's complex history.

Known at the end of the 19th century as Château Lamarzelle Figeac, the estate was rebuilt entirely in 1895, by a manufacturer from the North of France, a certain Mr. Bouchard. The Château is the fusion of the ancient small holdings of Clos Lamarzelle Grand Barrail and Lamarzelle-Figeac, which were separated from Château Figeac in the second half of the 19th century. The adjacent estate of Clos Lamarzelle was integrated in 1906.

From the earliest records of the famous Feret wine guide, the estate was regarded as one of the finest wines in Saint-Emilion, and was included in the Saint-Emilion classification system between 1959 and 1996.
---
We Also Recommend