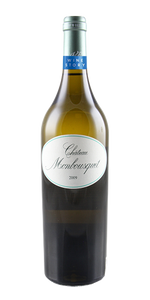 2009 Monbousquet Blanc 75CL
TASTING NOTES:


Wine Rating: RP 92 points
Drink by: 2012 - 2018

Proprietor Gerard Perse has backed off on the barrel fermentation and wood aging a bit, and the result is a more well-balanced, less over-the-top and exotic style of wine.
Fresh melon and green apple notes intermixed with hints of mango and pineapple, zesty acidity and subtle oak all make for a delicious, full-throttle wine.
The idea for this wine was born in early 1994 during a vineyard inspection with Michel Rolland; which was more of an impulse than an idea, almost a crazy bet. While deciding which grapes to plant on a freshly prepared parcel of land, Gerard Perse and Michel Rolland came up with the idea - why not white?

These two men, one a world-famous oenologist, the other a passionate newcomer to Saint-Emilion, both loved a challenge. Together they decided to rise to the task, and this parcel called "La Graviere" was planted with Sauvignon Blanc, Sauvignon Gris, Semillon, and Muscadelle. The varieties were unheard of in Saint-Emilion and the results were not certain.

However, Michel Rolland's talents and Gerard Perse's convictions were not suited to half measures. After three years of patient waiting and careful work the first harvest showed promise, and vintage after vintage their success became more evident. A subtle harmony of citrus, dominated by grapefruit and lemon, with waves of white peach, honey and nectarine; a fruity, smoky palate; magnificent length...they won their bet, proving that the terroir of Saint-Emilion is capable of producing a great dry white wine.
---
We Also Recommend