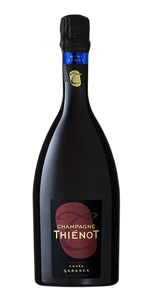 2008 Thienot Cuvee Garance Blanc De Noirs 75CL
TASTING NOTES:

Wine Rating: N/A
Drink by: N/A
In 1985 Alain Thiénot launched his eponymous Champagne House, driven by his experience as a courtier and close-knit relationships with Champagne growers. This was quite a challenge in a sector where the greatest names began their existence as early as the 18th century. Never willing to compromise on quality or expertise, Alain Thiénot has transformed this vision into one of his key strengths. From this point forwards, using a strategy targeting the gastronomy sector, he has successfully conquered markets in France and abroad.

He has passed on this passion and vision to his children, Garance and Stanislas, who decided to join the family business in 2003. With its resolutely modern philosophy, the most recently established, privately owned and family-run Champagne House continues its expansion. The Thiénot family combines finesse, fruit, and freshness in a blend of three grape varieties (Chardonnay, Pinot Noir, and Pinot Meunier) selected from the finest vineyards in Champagne.

"Garance" is the name of a plant from the Rubiaceae family, whose roots were used in the past to produce a red dye, which is a bright, clear shade of red. So it is no surprise that Alain Thiénot offers his daughter a blend of the finest Pinot Noir from Montagne de Reims; an astonishing wine revealing unique character of power and finesse. A blend of Vintage Pinot Noir - Blanc de Rouges.


---
We Also Recommend