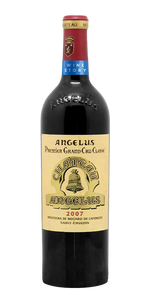 2007 Angelus 75CL
TASTING NOTES:

 
Wine Rating: RP 92 points
Drink by: 2017 - 2030

Tasted at BI Wine & Spirits' 10-Years-On tasting, the 2007 Angelus has a really quite wonderful bouquet with dark cherries, crushed strawberry, hints of orange blossom and cedar that contain much more energy than many of its peers.
The palate is very crisp and nicely structured on the entry. The acidity is very well judged, and there is a sense of effortless charm in the silky smooth, lightly spiced finish. Everything here is just ticking along nicely. Excellent. Tasted February 2017.
At the end of the 18th century in 1782, Jean de Bouard de Laforest, a King's bodyguard, settled in Saint-Emilion. His daughter, Catherine Sophie de Bouard de Laforest, married Charles Souffrain de Lavergne in 1795 and set up home on the Mazerat estate. Maurice de Bouard de Laforest inherited the estate during the 20th century and extended it, adding in particular a 3-hectare enclosure named Angelus in 1920.

His sons Jacques and Christian de Bouard de Laforest continued their father's work and that of previous generations. They extended it further until 1985 it exceeded 20 hectares. At this time, Hubert de Bouard de Laforest, Jacques' son, took over the management of the estate and was joined in 1987 by his cousin Jean-Bernard Grenie, Christian's son-in-law and later by his daughter, Stephanie de Bouard-Rivoal in 2012 and by his nephew Thierry Grenie de Bouard in 2016.
---
We Also Recommend