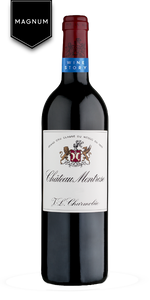 2005 Montrose 150CL
TASTING NOTES:


Wine Rating: RP 97 points
Drink by: 2025 - 2065

Tasted at the vertical in London, the 2005 Montrose came and delivered the goods. This was the best example of the 2005 that I have tasted, perhaps a wine that is going to prove that, the longer wine lovers can resist temptation. It is a blend of 65% Cabernet Sauvignon, 31% Merlot, 3.5% Cabernet Franc and 0.5% Petit Verdot picked between 23 September and 9 October.
The bouquet is extremely detailed, displaying more red berry fruit compared to the 2010 Montrose that leans towards black. Graphite and cedar emerge with time, even an unusual floral scent that is uncommon with respect to this property, whilst all the time retaining fantastic focus and delineation.
The palate is medium-bodied with a ferrous tincture on the entry. There are the first signs of secondary notes (dried leaves and bay leaf), but it is the tannic backbone and the precision that really defines this Montrose at the moment. For certain, it is masculine and structured, yet it has enormous potential, perhaps more than was suggested when it was first released? This is for the long term, but you know that already. Tasted June 2016.
The story of Montrose, written by three families of owners over two centuries, is a reflection of their spirit, marked by their pursuit of excellence and by legendary vintages. As pioneers in the Médoc, visionary builders and astute managers, they tended and got the best out of its unique terroir. It is they who laid the foundations to which Montrose now owes its image and its unique place in the world of great wines.

Succeeding three generations of the Charmolüe family, Martin and Olivier Bouygues acquired Château Montrose in 2006. They loved its wines, to which they had been introduced by their father, Francis Bouygues. Under their impetus, Montrose entered the 21st century with a spectacular reconstruction.

The result of rigorous selection at each stage of production, in both the vineyard and the winery, this great, predominantly Cabernet Sauvignon wine is typical of the Saint-Estèphe appellation. Structured and tannic but with all the elegance and refinement of a Grand Cru Classé, with time it develops a delicate and complex bouquet. The wines have considerable ageing potential and are exceptionally long-lived.
---
We Also Recommend