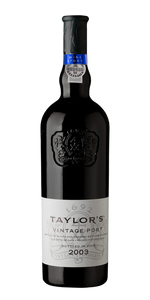 2003 Taylor's 75CL
TASTING NOTES:

 

Wine Rating: RP 95 points
Drink by: N/A

 

The 2003 Taylor's has a lovely ripe, primal bouquet of blackberry, raspberry, vanilla and marmalade that shows slightly better delineation than the Fonseca.
The palate is medium-bodied with very composed, refined tannins that belie the heat of that summer. There is wonderful focus here and fine tension, the finish offering precise notes of black cherries, mulberry, cloves and white pepper. This is one of the finest Ports of a precocious vintage.

"For many, Taylor's is the archetypal Port house and its wines the quintessential Ports. Established over three centuries ago in 1692, Taylor's is one of the oldest of the founding Port houses. It is dedicated entirely to the production of Port wine and in particular to its finest styles.

Taylor's is regarded as the benchmark for Vintage Port. Noted for their elegance and poise as well as for their restrained power and longevity, Taylor's Vintage Ports are blended from the finest wines of the firm's own quintas or estates, Vargellas, Terra Feita and Junco. These three iconic properties, each occupying a distinct geographic location and with their own unique character, are the cornerstone of the company's success and the main source of its unique and inimitable house style.

Based in Oporto and the Douro Valley the company is closely involved in all stages of the production of its Ports, from the planting of the vineyard and the cultivation of the grapes to the making, ageing, blending and bottling of the wines. The family's commitment to the future of Port is demonstrated in its single minded dedication to the highest standards in Port production, its continued investment in all aspects of the firm's operations and its determination to preserve the unique environment of the Douro Valley through the promotion of sustainable and responsible viticulture."
---
We Also Recommend