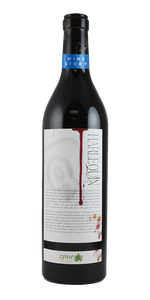 2000 Zyme Harlequin 75CL
TASTING NOTES:

Wine Rating: N/A 
Drink by: N/A
The name Zýme, from Greek, means "yeast." Yeast is, of course, an indispensable element in the world of enology, but it also bears a symbolic meaning, since it conjures up the concept of naturalness, a fundamental value in Celestino Gaspari's professional and existential journey, as well as the process of fermenting, understood as a continuous striving towards transformation.

In harmony with that philosophy, the winery logo represents a grapevine leaf in which is centered a pentagon, symbol of the five basic elements that combine to yield wine: man-vine-earth-sun-water.

This wine has minimum 15 varieties (4 whites and 11 reds): Garganega, Trebbianotoscano, Sauvignon Blanc, Chardonnay, Corvina, Corvinone, Rondinella, Cabernet Sauvignon, Cabernet Franc, Merlot, Syraz, Teroldego, Croatina, Oseleta, Sangiovese, and Marzemino.
---
We Also Recommend