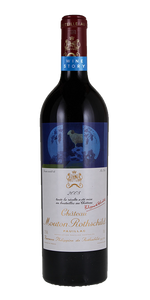 2008 Mouton Rothschild 75CL
TASTING NOTES:


Wine Rating: RP 95 points
Drink by: 2021 - 2045

Tasted at the Mouton-Rothschild vertical in London, the 2008 Mouton Rothschild has always been in the shadow of the ensuing couple of vintages, but I was not the only person at this tasting that commented upon the class in show here. It replicated previous showings: cedar and graphite present and correct, though accompanied by something a little more exotic - eucalyptus maybe?
The palate is beautifully balanced, very detailed and extremely fresh. This conveys so much energy and animation before reverting towards a more classic and structured, pencil lead finish. Those in the know will stash up on the 2008 Mouton Rothschild because it is destined to turn into one of the "dark horses" of the decade. Tasted May 2016.
Formerly known as Château Brane-Mouton, it was in 1853 that Baron Nathaniel de Rothschild acquired the property. From this date, the Château was renamed Château Mouton-Rothschild. Under the leadership of Baron Philippe de Rothschild, Mouton-Rothschild saw its reputation grow to become an emblem of the Pauillac appellation. Taking over the reins of the estate in 1922, Baron Philippe de Rothschild was at the core of all the major and innovative decisions during his time there.

From 1924, Mouton-Rothschild was the first property in the Bordeaux region to bottle the wine on the estate and to mention this on its label and on the same year, Baron Philippe asks Jean Carlu to design the label but the initiative, ahead of its time, is not repeated.

The barrel storage capacities on the estate quickly become insufficient. The "Grand Cellar" at 100 metres long was designed in 1926, and was an architectural feat at that time. In 1973, Château Mouton-Rothschild acquired the rank of Premier Grand Cru Classe. With the same passion and commitment as her father, the Baroness Philippine de Rothschild took over in 1988. Up until 2014, the estate had its facilities further expanded and modernized, which has left a profound mark on the estate.

Today, the three children, Camille Sereys de Rothschild, Philippe Sereys de Rothschild and Julien de Beaumarchais de Rothschild, all co-owners of the Château, continue in the footsteps of their predecessors.
---
We Also Recommend