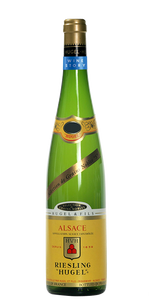 2011 Hugel Riesling SGN "S" 75CL
TASTING NOTES:


Wine Rating: N/A
Drink by: N/A

This wine has a superb and wonderfully dense deep golden yellow colour completed with subtle hints of lemon yellow and pastel green and an occasional shine and brilliance which gives it a very tonic and lively aspect. The legs are thick, fleshy, dense, and tight. It has a refined, distinguished, profound, aromatic, perfumed and pure bouquet with the perfect harmony that comes from maturity leaving the typical minerality and expressiveness of a Riesling and a region which give it the unique and rare bouquet infused with daring freshness and vigour, it's perfume, aroma, fruitiness really highlight the unique Riesling grape variety. Flower honey, fresh saffron, brioche, kumquat, citron, cocoa bean, tobacco, preserved pineapple and lemon.
This is a sweet, syrupy, smooth and full wine, with a sophisticated fresh and lively structure that brings perfect balance and harmony to dominate the senses. Best served as it is, even if it is quite young, at 6°C, it will be at its best in 10 to 25 years.
"The wine is already in the grape". As soon as they arrive at the "Hugel" premises in the heart of Riquewihr, the grapes are classified according to precise and strict criteria of quality.

Despite its modest size, the Hugel company enjoys a worldwide reputation. Present in practically every great restaurant in France, almost 80% of "Hugel" wines are exported, to more than 100 countries. The Hugel family was elected by its peers to membership of the "PRIMUM FAMILIAE VINI", an association of 12 family wine companies in the major wine-producing regions of the world. It is also a member of the Henokiens, an international association of family businesses that are all more than two hundred years old.

These wines made from single berry selection of overripe and shriveled grapes picked one by one and produced in the greatest years only. The action of noble rot (botrytis cinerea) gives them an almost unlimited ability to age. They are part of the elite of the greatest wines in France. An absolute nectar! Great specialty for several generations of the Hugel family, who drafted the law on late harvest. Wine with great power and longevity to taste religiously by itself during a special occasion.
---
We Also Recommend