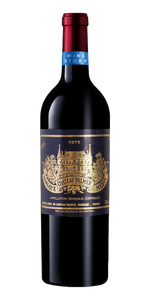 1975 Palmer 75CL
TASTING NOTES:

 
Wine Rating: RP 90 points
Drink by: 2001 - 2016

The 1975 Palmer has consistently been one of the top wines of the vintage. The color remains a dark ruby with no signs of amber. The wine reveals plenty of sweet fruit in the fragrant bouquet. Although more tannic than most top vintages of Palmer, this is a full-bodied, rich, concentrated wine with the vintage's toughness and high tannin well-displayed. Yet I believe it possesses enough sweet fruit and extract to stand up to the tannin. Shockingly, the most developed bottle of 1975 Palmer I have tasted was from an Imperial several years ago. From my cellar, the wine is still very young, and in need of another 5-7 years of cellaring. It has another 20+ years of evolution.
Château Palmer's is a tale of the spirit, recounted in the lives of the Major General Palmer, the Pereire brothers, and continuing today through generations of the Mähler-Besse and Sichel families. The heart of Château Palmer. 

Here in the Palmer Village, overlooking the great sorting hall, is where every wine is born and matures. In the shadow of stainless-steel vats and wooden barrels, the technical teams work with care and precision to exalt the vineyard while respecting its bounty. It is where innovation meets tradition – and the future wines of Château Palmer come to life. The complexity of a terroir, the devotion of those who care for it, all to create wines of focus, balance, length, and silk. A signature.

---
We Also Recommend