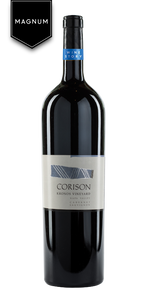 2001 Kronos Corison Cabernet Sauvignon 150CL
TASTING NOTES:


Wine Rating: WS 80 points
Drink by: N/A

A rustic, hearty, rugged style, with chewy tannins wrapped around a mix of herb, dried currant and cedary tobacco notes. Finishes with a chewy wall of tannins.
Kronos was one of the titans in Greek mythology, the sons of heaven and earth. That is right where wine sits for Cathy Corison (
winemaker, entrepreneur, and consultant specialized in Cabernet Sauvignon)
,

between earth and sky.

Located by William Martin and purchased in 1995, Kronos Vineyard is one of the last old Cabernet vineyards in the Napa Valley. Planted in 1971 on St. George rootstock, which is completely resistant to Phylloxera, the gnarly, wise old ladies are almost 50 years old! Yields are pitifully low at 1.25 tons/acre, but the singular wine it produces proves it to be one of the great Cabernet vineyards of the world. Cathy considers it a gift to have the opportunity to work with these old vines because they yield concentrated, complex, inky, structured, aromatic wines at very moderate alcohols. Farmed sustainably from the beginning, these deep-rooted veterans sail through any weather.
---
We Also Recommend