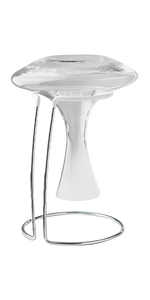 Decanter Drying Stand
Dries, protects, displays. Now with a special rubber coating for scratch protection!

This stainless steel decanter drying stand not only air dries your decanter to a spot-free finish, it guards against scratching with the addition of a rubber overlay around the holder. Doubles as a decanter rack for all standard size decanters. Lightweight.
Size: 10-1/4"H x 7-1/2"W
*Decanter not included