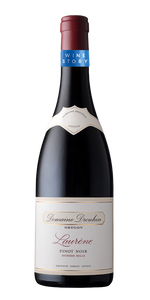 2011 Domaine Drouhin Pinot Noir Laurene 75CL
TASTING NOTES:


Wine Rating: RP 90 points
Drink by: 2013 - 2020

There is a welcome (if, in one sense, too large) leap in quality from their basic "classique" bottling and Drouhin's 2011 Pinot Noir Laurene. High-toned almond and pistachio extracts along with smoky black tea inflect the lightly cooked and distilled rhubarb, cherry and black raspberry on exhibit on the penetrating nose and silken yet tart-edged palate of this Pinot.
There is a smoky barrel attribute and considerable underlying tannin but they are well-integrated and don't detract from the juicy finishing flow of fruit. Hints of brown spice add stimulation.
From the caves of Burgundy to the Dundee Hills of Oregon. The Drouhin Family's winemaking roots run deep, having taken hold in Burgundy's best vineyards more than a century ago. Through the years, there has been a very clear link, a continuum, that inhabits Maison Joseph Drouhin, and Domaine Drouhin Oregon established 1987. The estate winery in the Dundee Hills creates elegant, fine Pinot Noir and Chardonnay wines forged from the family's tradition of fine winemaking in France.

For more than 30 years, the Drouhin Family has brought a wealth of hard-earned experience to their vineyards in the Willamette Valley, just southwest of Portland, Oregon. Fourth-generation winemaker Véronique Boss-Drouhin produces wines of distinction, balance, elegance, and longevity.
Philippe Drouhin, who oversees the family vineyards in Burgundy and Oregon, is responsible for the 225-acre estate. Today, 130 acres are under vine and are certified sustainable by L.I.V.E. The Family's principled approach to viticulture and winemaking, and long experience with Pinot Noir and Chardonnay, have earned an international reputation for excellence. Named after Véronique Drouhin's elder daughter, Laurène is the flagship wine and is produced entirely from Pinot Noir grown on the family's estate in the Dundee Hills.