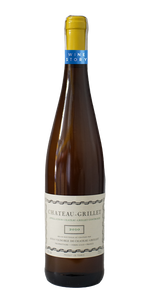 2010 Grillet Neyret-Gachet 75CL
TASTING NOTES:

Wine Rating: N/A
Drink by: N/A
The estate was acquired in June 2011 by the Pinault family, who own several other vineyards gathered under the Artémis Domaines label which are managed by Frédéric Engerer. Château-Grillet has a rich history, illustrating perfectly the passion and devotion of many generations of men and women for this exceptional terroir.

On 11 December 1936, the Official Journal of the French Republic announced that owner Henri Gachet had succeeded in obtaining appellation contrôlée status for the property. Château-Grillet was therefore one of the first French appellations and also one of the smallest. Even rarer, Château-Grillet is also a monopoly, an appellation with only one producer. This was recognition of the excellence of the terroir and of the wines it produces.

The wine was available in the greatest French restaurants of the time, most notably at Fernand Point's legendary restaurant La Pyramide in Vienne. This great Chef, considered the father of French gastronomy and the first to win three Michelin stars, was one of the most faithful ambassadors for Château-Grillet.


---
We Also Recommend