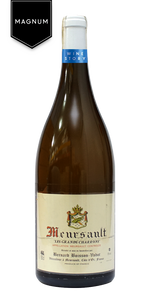 2009 Meursault Grands Charrons,Boisson-Vadot 150CL
TASTING NOTES:

Wine Rating: N/A
Drink by: N/A
Domaine Boisson-Vadot is one of the fine, outstanding small producers in the village of Meursault and has developed an almost cult-like following. The Boisson family have been vignerons in Meursault for more than two centuries, and the wines today are as fine as they have ever been in the long and illustrious family history. The estate is currently run by the father and son team of Bernard and Pierre Boisson.

The wines of Domaine Boisson-Vadot have always been excellent, with a classic, soil-driven and racy style not encumbered by excessive new oak or battonage. The trusty formula of a high percentage of old vines, combined with careful vineyard work to nurture the greatest potential of each vintage, and patient winemaking in the cellars allows the underlying terroirs of each site to take the spotlight in the finished wines.