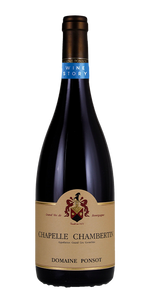 2009 Domaine Ponsot Chapelle Chambertin 75CL
TASTING NOTES:

Wine Rating: RP 91-94 points
Drink by: 2019 - 2039
Domaine Ponsot's history begins in 1872 when William Ponsot purchased a wine estate in Morey-Saint-Denis and set up his home there. His major parcels of land at that time were the Clos des Monts-Luisants and Clos de la Roche. His nephew and godson, Hippolyte Ponsot, took over the domaine in 1920, and in 1932 started bottling his entire harvest at the domaine, a rarity for the time. Eventually estate was passed down to Hippolyte's son Jean-Marie, and later to Jean-Marie's children, Laurent and Rose-Marie.

Today, Rose-Marie Ponsot is the sole director of the company, seconded by Alexandre Abel. Unfettered by the latest fashions, Domaine Ponsot has always sought to express the richness of Burgundy terroir through natural cultivation practices. Human intervention is limited and only applied to the help that the vine needs. The family's long tradition of letting nature take the lead work that today the vineyards are in exceptional condition.