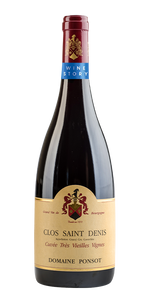 2008 Domaine Ponsot Clos St Denis TVV 75CL
TASTING NOTES:


Wine Rating: RP 93 - 94 points
Drink by: N/A

Ponsot's 2008 Clos St.-Denis Cuvee Tres Vieilles Vignes smells of violets, tar, game, and black fruits in a manner that puts me momentarily in mind of a great Barolo. Rich purple plum and blackberry pour out over a creamy palate while an inner-mouth profusion of violet and lily – along with underlying salt and stone – serve for allure, intrigue, and saliva-inducement. This is a distinctly decadent as well as mysteriously and complexly-nuanced Pinot that finishes with haunting length and the promise of two decades, perhaps more, of fascination.
Domaine Ponsot's history begins in 1872 when William Ponsot purchased a wine estate in Morey-Saint-Denis and set up his home there. His major parcels of land at that time were the Clos des Monts-Luisants and Clos de la Roche. His nephew and godson, Hippolyte Ponsot, took over the domaine in 1920, and in 1932 started bottling his entire harvest at the domaine, a rarity for the time. Eventually estate was passed down to Hippolyte's son Jean-Marie, and later to Jean-Marie's children, Laurent and Rose-Marie.

Today, Rose-Marie Ponsot is the sole director of the company, seconded by Alexandre Abel. Unfettered by the latest fashions, Domaine Ponsot has always sought to express the richness of Burgundy terroir through natural cultivation practices. Human intervention is limited and only applied to the help that the vine needs. The family's long tradition of letting nature take the lead work that today the vineyards are in exceptional condition.


---
We Also Recommend