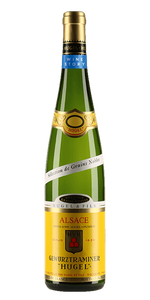 2002 Hugel Gewurztraminer SGN 75CL
Also available in case. Please
contact us
for more details.
TASTING NOTES:

 
Wine Rating: RP 92 points
Drink by: N/A

The 2002 Gewurztraminer Selection de Grains Nobles is redolent of smoked meats, orange liqueur, and brown spices. Honeyed and superbly rich on the palate, it offers an invigorating, mineral-rich, oceanic salinity and carnal depth, combining sheer viscosity with brightness in a manner that Gewurztraminer can only achieve under the influence of subtle desiccation and refined botrytis. While it appears unlikely to ever give its siblings from 2005 or 2001 a run for the gold, it can certainly safely rest in one's cellar for the next couple of decades.
"The first traces of the Hugel family in Alsace can be traced back to the XVth century. Some two centuries later, Hans Ulrich Hugel settled in Riquewihr, which had been devastated by the terrible Thirty Years War.

In 1639 he was made a freeman of the city and soon took charge of the very powerful Corporation of Winegrowers. In 1672 his son built a fine house in the Rue des Cordiers, and over the doorway was carved the family crest which was the origin of the company's logo still used today.

During the XVIIIth and XIXth centuries, the Hugel family gained an enviable reputation for their winegrowing skills and for the meticulous way in which they cultivated their vineyards. In 1902, Frederic Emile Hugel left the old family property and established himself in premises in the centre of Riquewihr which still form the heart of the family business."
---
We Also Recommend