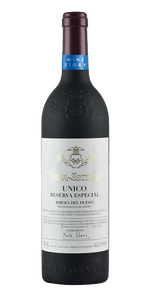 Vega Sicilia Reserva Esp 2018 Release NV 75CL
TASTING NOTES:

 
Wine Rating: RP 95 points
Drink by: 2018 - 2028

It feels young and not that far away from the current vintage of Único 2006. It has a classical profile, with polished tannins and nice subtlety. A blend of 2005, 2006 and 2007.

TEMPOS Vega Sicilia was set up in 1982 by the Álvarez family, its current owner, when it purchased the legendary winery of the Ribera del Duero. The Álvarez family's business project is based on two fundamental cornerstones: consistency of the quality of the product as a guarantee for the different vintages, and dedication to the client as a benchmark in its routine activity.

Bearing witness to the past, it pays serious homage to the history of Spanish wine in which the most stable Vega Sicilia concept is shown. A wine that, combining the balance between the best vintages and harvests, faithfully reflects the magic of a legendary land.

Unico Reserva Especial is a true reflection and tribute to the history of Spanish wine, perfectly combining the characteristics of different vintages of UNICO. Only the best vintages of UNICO are used to produce this legendary and remarkably complex wine; a blend of many years, virtues, experiences and feelings that only expresses the most profound essence of a unique, inimitable style, the Vega Sicilia style.

Unico Reserva Especial 2018 is composed of 58 barrels including vintages 2005, 2006 and 2007, among others.