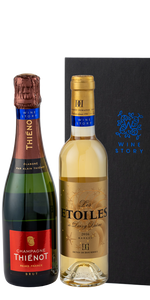 Little Pleasures: Sweet and Sparkling
A modest indulgence to delight the heart and the palate.  This half bottle set doubles up the enjoyment with:
- the sparkle of Thienot Champagne Brut NV 37.5CL and
- a sweet Bordeaux classic, Les Etoiles de Doisy Daene 2016 37.5CL gives sweet satisfaction with every drop of Sauternes' famous and rare luscious wines.
Give it or keep it. These Little Pleasures can be enjoyed solo and shared.
---
We Also Recommend