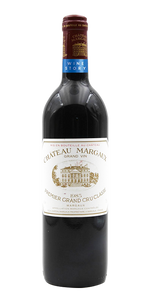 1985 Chateau Margaux 75CL
TASTING NOTES:

Wine Rating: RP 95 points
Drink by: 2003 - 2015

Approaching full maturity, this beautifully sweet Château Margaux has a dense plum/purple color and a huge, sweet nose of black currants intermixed with licorice, toast, underbrush, and flowers.
Medium to full-bodied with supple tannin and a fleshy, juicy, very succulent and multi-layered mid-palate, this expansive, velvety wine has entered its plateau of maturity, where it should remain (assuming good storage) for at least another 10-15 years. A very delicious, seductive, and opulent Château Margaux to drink over the next two decades.
"Known since the XII century, it was called "La Mothe de Margaux" (the Margaux mound), and at that time, it didn't have any vines. The old name didn't happen by chance; in a flat region like the Medoc, the slightest "mound" was easily distinguished and the greatest wines are always produced on sloping land that ensures good drainage.

The successive owners of "La Mothe de Margaux" were, of course, important lords but we had to wait for the arrival of the Lestonnac family to set up the estate as we know it today. Pierre de Lestonnac succeeded, in the ten years from 1572 to 1582, in completely restructuring the property as well as the vineyard and anticipated the general evolution of the Medoc that had started to abandon cereal growing in favour of vines. At the end of the XVII century, Château Margaux occupied 265 hectares, land that wouldn't be divided again. A third of the estate was dedicated to vines, which is still the case today."
---
We Also Recommend