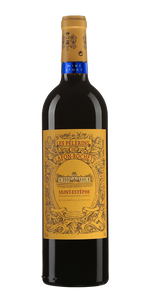 2018 Pelerins De Lafon-Rochet 75CL
TASTING NOTES:

Wine Rating: N/A 
Drink by: N/A
The Pelerins of Lafon Rochet in the 2018 vintage are made from a blend of 50% Merlot and 50% Cabernet Sauvignon, it is an easy, elegant, fruity, charming wine, powerful with silky tannins.
With a fresh and complex nose dominated by red and black fruits, we discover a mouth full of power. Typical of a large St-Estèphe, the mouth is racy, rich in tannin but with great flexibility that makes it immediately accessible. A bouquet of fruity and spicy aromatic notes adorn an elegant finish.
Medoc means "amid the waters", a strip of land between the Atlantic Ocean to the west and the Gironde estuary to the east. The Medoc is a one-of-a-kind terroir that you need to understand if you want to get the most out of it, an exceptional and demanding terroir. At Lafon-Rochet, 41 hectares of vines cover two outcrops in Saint-Estephe. On one side, gravel ensures excellent natural drainage; on the other, clay regulates and excess or lack of water, providing the vines with what they need.
The History of this ancient estate goes back to themiddle of the 17th century, when, in 1650, Antoinette de Guillemotte, brought the land of 'Rochette' as her dowry to her husband, Pierre de Lafon, a Councillor in the Bordeaux Parliament. In common with many other bordeaux wine properties, it was not long before the essais took on the name of its owner, and became Château Lafon-Rochet In spite of the French Revolution in 1789, the estate remained in the hands of this far-sighted family for more than two centuries. They did much for the reputation of its wines, and were duly rewarded by their inclusion in the 1855 Classification, one of only 5 estates from St-Estèphe to receive this honor. In 1880, Madame Lafon de Camarsac died, after which the estate changed hands several times. When Guy Tesseron became the new owner in 1959, it was in serious need of restoration. At this point began the renaissance of Château Lafon-Rochet, which in a few years, was to restore it to its former glory. Having first put the vineyards back in to good order, Guy Tesseron turned his attention to the vinification buildings and the Château itself, which were all in a very dillapitated state. Judging them to be too far gone, he decided to build an entirely new Château in the Chartreuse style of the 18th century.
Les Pèlerins de Lafon-Rochet, the second wine of the property, is an easy and more affordable wine. Coming from the youngest vines, a kind of initiation before the great wine! It is drunk faster, and doesn't require to wait decades before tasting it. Fresh and simple, he nevertheless enjoys the same care as his elder.
---
We Also Recommend